Hi everyone, my name is Albert
I am currently searching high and low for the perfect family to take me in and love me unconditionally.
Sadly, I recently lost my best friend, another Staffy. I had a strong bond so I am looking for someone who can give me lots of attention and companionship for the rest of my days. My ideal home moving forward would be one without any other animals. It's time for all of the attention to be on me!
I have recently commenced a weight loss campaign so a home with adopters who can help me continue with my diet would be ideal. While I still love getting out on walks, exploring the local parks and people watching, I can tire quite easily, so a family who will commit to leisurely daily walks would be most ideal! I would suit an older family, one with no younger children.
The staff here at Lort Smith noticed that I sometimes have a skip in my hind leg and can get a little wobbly whilst walking. I had x-rays and was assessed by multiple vets however everything came back normal. For this reason, I will be a foster with a view to adopt for two weeks so that my new family can monitor this in the new home environment.
I do have some fatty lumps on my skin, however they have been confirmed as nothing sinister. Fatty lumps are a common quirk of an aging Staffy, so I will need someone experienced with these quirks to keep a close eye on my health as I age.
If you think you could be the perfect match for me, please complete an online expression of interest form!
Gallery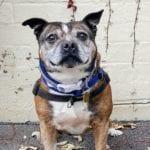 Adopting an animal
Adopting an animal is a rewarding experience that will last a lifetime. But before you adopt a pet please take some time to consider the commitment you are about to make. Sometimes the excitement of pet ownership can overshadow factors that should be considered before adoption.
Adopting a shelter pet is a lifelong decision that will have a major impact to your normal, everyday life. Please remember that a cat or dog can live for up to 20 years and they will rely only on you for their wellbeing for their entire life.
Do I have time to exercise the dog every day?
Do I have time for puppy pre-school and time to socialise a puppy?
Do I have at least an hour every day to spend with my cat?
Do I have time for obedience training?
If renting, does the landlord permit pets?
Is the backyard big enough and is the fencing secure?
Does the whole family want a pet?
Will the pet be allowed inside?
Will I have to move interstate or overseas in the foreseeable future?
Will I have to move to another rental property where the landlord may not allow pets.
Pets are a lifelong monetary commitment, you will need to factor in:
Weekly animal food bills and necessities
Yearly council registration
Monthly medications like heart worm/intestinal worm and flea treatments
Annual vet visits for vaccinations and check ups
Unexpected vet bills due to accidents or medical conditions
Ongoing grooming
Boarding fees for human holidays
Enrichment like training, toys etc
Hill's Pet Nutrition are corporate supporters of Lort Smith and kindly gift a $15 voucher from their Science Diet range to all new Lort Smith cat and dog adopters.
Ready to adopt?