Not many people know that Lort Smith cares for more than just cats and dogs. Yes, they make up the majority of our clients, but our vets also regularly treat birds, rabbits, ferrets, turtles, lizards, snakes and wildlife!
So, when an owl was brought to our emergency unit after being discovered on a construction site, covered in a sticky substance, our Unusual Pets and Wildlife Veterinarian, Dr Tristan Rich immediately set about getting it cleaned up. Sadly, he realised that the owl had lost a lot of feathers during its ordeal and was no longer able to fly.
Owls need to fly in order to hunt and it would take months for the feathers to grow back before releasing it back into the wild. The poor bird was extremely
distressed being inside the vet clinic, so Dr Tristan decided to try something a little outside the box.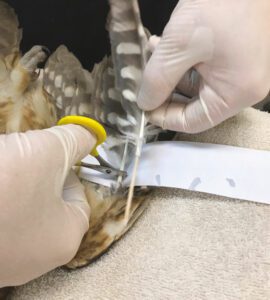 "We were incredibly lucky in that an owl of the exact species — a Boobook Owl — had been brought to us just a few days prior," he says. "Unfortunately, that owl didn't survive but it had completely undamaged feathers. So, I decided to perform an imping."
An 'imping' is a procedure traditionally performed by falconers that involves transplanting old feathers onto a new bird to help them fly. Dr Tristan says the technique has been around for hundreds, if not thousands, of years and involves making cuts in the quill of both the damaged and replacement feathers and connecting them together using a small rod. The new feather is then glued into place.
It's a very fiddly procedure, says Dr Tristan. The more feathers, the longer it takes, and this particular case took forever because the owl had lost a lot of feathers!
While it's not entirely uncommon for bird clinics to perform an imping, it was certainly an unusual day for Dr Tristan and was only possible thanks to the coincidence of the two owls being brought in just days apart.
It's sad that the first owl didn't make it but I'm grateful that it was able to save another bird's life, Dr Tristan says.
Soon after, the team had the privilege of releasing the owl back into the wild.
Thanks to the support of our donors, we can support five trained carers each year.