Ambassadors
We are fortunate to have the support of some extraordinary ambassadors who help to raise the profile of Lort Smith, and form part of our community of animal lovers.
Rosie Batty AO
Recipient of the 2015 Australian of the Year Award, Rosie is a well-known and highly respected advocate for victims of family violence and someone who knows what a loved part of the family pets are. In 2019 Rosie was appointed an Officer of the Order of Australia in the general division as part of the Queen's Birthday 2019 Honours recognition for her distinguished service to the community as a campaigner and advocate for the prevention of family violence.
Rosie has always had companion animals and has struggled financially, so she knows only too well how distressing it is to be in a situation where you know your beloved pets are vulnerable.
"I'm thrilled to be an ambassador because I'm aware of the good work that Lort Smith does. The organisation works with the most vulnerable people in our community, helping them to give their animals the level of care they deserve. I see pets coming in that may need to be adopted. I see pets that need medical treatment, but I don't see pets being turned away."
Rosie currently shares her home with four dogs, two cats, two donkeys, five chickens and a goat.
Giaan Rooney OAM
Giaan is an Olympic gold medallist and highly popular presenter for Channel Seven. In 2005, she was awarded the Order of Australia Medal for service to sport as a Gold Medallist at the Athens 2004 Olympic Games.
Giaan adopted Lester, her Jack Russell x fox terrier, from Lort Smith in 2006 when he had been relinquished by his carers after an accident in which his leg had to be amputated.
"I have always loved animals. From the day I could walk I wanted nothing more than to find the closest four-legged creature and look after it. So when I hear stories of animal cruelty, animal neglect and animal suffering, it really hits a nerve. Lort Smith cares for any animal that finds itself in this situation, be it through veterinary care, rehoming, training, or for those who simply have no other options. To me, the staff and volunteers at Lort Smith are true heroes, who dedicate their time, skill and love to animals who more often than not have found themselves in heartbreaking situations. It is a pleasure and a privilege to play any small role I can to raise the awareness of this wonderful institution and continue the care of our fabulous furry mates."
Chrissie Swan
Chrissie is one of Australia's most loved personalities. Her very first pet was a jet-black moggie called Louie and he was adopted from Lort Smith. In 2017 Chrissie adopted kittens, Joni and Bob, from Lort Smith.
A Logie and ACRA award-winning radio and TV broadcaster, Chrissie is also a bestselling author and columnist. She has been nominated for the coveted Gold Logie and is currently heard on Nova breakfast radio as part of the Chrissie, Sam and Browny show.
"The Pet Protector program is amazing because even if you can't have a pet of your own, the ability to help someone else keep their pet, or provide treatment when they have run into trouble, is extraordinarily appealing."
Peter Hitchener OAM
Peter has been a highly respected newsreader for many years. In 2021 he celebrates 56 years as a newsmaker – the past 48 of them with the Nine Network – a remarkable feat in any industry, let alone the highly competitive field of broadcast journalism.
In 2017, Peter was awarded the Order of Australia Medal for his services to broadcast media and the wider community.
"I'm a proud supporter of Lort Smith because it cares for injured, sick and abandoned animals and provides remarkable support for their carers. Lort Smith is an organisation with a long history of commitment to the community, and our city would be the poorer without its services."
Dr Sally Cockburn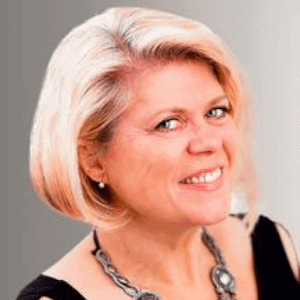 Sally is a working general practitioner and a highly successful medical communicator. A nationally recognised television, radio and print personality, she is commonly known as Dr Feelgood. Sally's 20-year media career also includes nine years as health presenter on Channel 10's Good Morning Australia with Bert Newton, and her own talkback television show on Channel 7 in the 1990s.
Sally consistently brings to light the importance of animals to human health and wellbeing. On Christmas Day 2012, whilst volunteering at Lort Smith, Sally laid eyes on Cavalier King Charles Spaniel Tink and subsequently adopted her!