On a Friday morning in March Lort Smith was called to provide off-site emergency medical treatment to a cat who had become stuck between two brick walls in North Melbourne.
It is believed Puss, the 12-year-old tabby, was chasing rats between two structures that only had a small gap through which to crawl.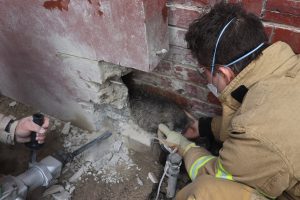 Neighbours heard Puss crying out for help called emergency services. The Melbourne Fire Brigade (MFB) arrived shortly after and found her jammed in a tight four centimetre gap between a house and a neighbouring property.
The MFB crew called Lort Smith for urgent veterinary help to ensure the best possible outcome for Puss's health and wellbeing. Head of Hospital Dr David Cunliffe, Head Veterinarian Dr Warren Gatt and nurse Amanda Wall were the first to attend to keep Puss calm while Urban Search and Rescue firefighters delicately cut away part of the wall using specialised equipment.
The complex operation to free the cold and scared feline took some time. Throughout the ordeal Puss's wellbeing was constantly monitored by Dr Gatt, ensuring she was receiving oxygen, and medical treatment to help her feel comfortable.
The moment Puss was free, Dr Gatt and nurse Wall provided on-the-scene emergency medical treatment before transporting the tabby feline to Lort Smith Animal Hospital's Intensive Care Unit.
Puss's temperature was worryingly low, so she was given oxygen and warming therapy in Lort Smith ICU's humidicrib. Originally designed for premature human babies, humidicribs also help treat critically ill animals. This non-invasive treatment that helps to speed up recovery.
While in Lort Smith ICU Puss's health was constantly monitored. Some of the additional treatments and procedures she received were:
blood tests to ensure vital organs were not compromised
fluids for hydration; overnight veterinary care
and grooming to ensure toxic dust particles were removed.
Puss was discharged after 30 hours in hospital and is now at home with her carers curled up on the couch, happy to be with the humans she loves most.
Watch the moment Puss was freed below: