Vet Services
Explore the broad range of ways we can help.
Adoptions
Pets looking for their new home.
Christmas Appeal
Help keep pets together with their families this festive season
Lort Smith.
Animal Hospital
Lort Smith is an iconic Melbourne institution providing exceptional veterinary services for all pet carers. We aim to provide expert animal healthcare and wellbeing services through high-quality vet care and state-of-the-art facilities. But we do more than that. We champion the human-animal bond and have a unique legacy of compassion for pets and people in our community.
Help more pets like Noodle this festive season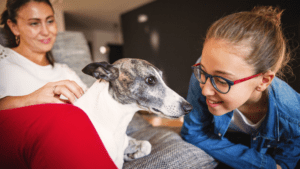 Many vulnerable families face the holidays without their beloved pets because of an unexpected pet emergency. The Walsh family nearly lost their rescue Greyhound, Noodle, last year. Luckily, he made it to Lort Smith in time for urgent treatment that saved his life. It would not have been possible without the generous support of people like you.
Donate now
Annual pet check-up: A vital step before the festive season
As the summer holidays approach, many pet owners are gearing up for holidays, family gatherings, or festive celebrations. Scheduling an annual pet check-up before the holiday rush can ensure a worry-free and healthy season for your beloved pets. Read our latest blog to learn more.
Learn more
North Melbourne
Centrally located in Melbourne's medical precinct, our emergency animal hospital and vet clinic provides critical care for sick and injured animals, as well as routine clinical services.
Campbellfield
A brand new purpose-built vet clinic, adoption centre and community dog park located 16 kilometres north of Melbourne's CBD, enables us to serve more pets and people.